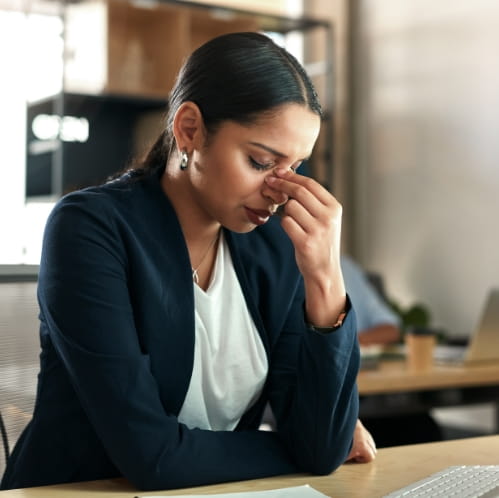 Trauma & PTSD Mental Health Treatment
---
Experiencing trauma can impact every aspect of your mental, physical, and emotional well-being. Traumatic experiences can severely impact individuals and families, breaking a fundamental sense of security and safety. Witnessing a serious accident or natural disaster, experiencing a physical or sexual assault, or facing a severe health problem can lead to trauma responses.
Psychological trauma can lead to Post Traumatic Stress Disorder (PTSD), a recurring emotional and physical response to previous distressing or frightening events. Generally, people develop PTSD as they relive the traumatic event, causing feelings of being overwhelmed and isolated.
With counseling from T.R. Liscombe Family & Behavioral Consultants, LLC, you gain valuable insight and support in coping or managing traumatic stress successfully. We help you find positive coping methods and pursue relaxation and resiliency.
Find High-Quality Trauma Treatment For You
Processing your experience with a professional counselor helps you develop healthy patterns and behaviors. We're here to support you as you progress on your mental health journey.
How Does PTSD Affect Mental Health?
---
The symptoms of PTSD vary based on the individual, although most clients with PTSD experience physical, emotional, and behavioral changes. This anxiety disorder will cause you to experience recurring stress, which often substantially impacts day-to-day life.
At T.R. Liscombe Family & Behavioral Consultants, LLC, our mental health professionals take the time to get to know you. We understand that no two clients share the exact cause of trauma or symptoms. Our goal is to give you personalized coping strategies to improve the symptoms of your mental health conditions and support your wellness journey. We use a variety of treatment options and psychological therapies to see what works best for you.
Trauma & PTSD FAQ
How do you treat trauma and PTSD?
At T.R. Liscombe Family & Behavioral Consultants, LLC, we offer comprehensive mental health treatment for PTSD and trauma. From identifying your symptoms and diagnosing PTSD to pursuing treatment options, our counselors understand the impacts of these mental illnesses and how to treat them best. There are many treatment modalities and interventions that can be helpful in treating trauma. Some treatment options include talk therapy, cognitive behavioral therapy (CBT), support groups, and other mental health services.
What are common symptoms of PTSD?
Emotions such as fear, guilt, anger, shame, and helplessness are often prevalent, along with other symptoms of depression. Physical risk factors and symptoms can include rapid breathing, physical pain, insomnia, and substance abuse. If you or a loved one is experiencing life-threatening symptoms, call 911 for emergency care.
Can you have PTSD from COVID-19?
Yes, you can. Suffering from any illness, including COVID-19, can be traumatic. Experiencing the loss of a loved one can also negatively impact your mental health. Additionally, individuals such as medical workers having traumatic exposure to COVID-19 patients can create difficult emotions that lead to PTSD.
Overall, the pandemic caused years of uncertainty, defeat, and anxiety that can result in trauma responses. Our counselors are here for you if you need treatment for mental health while coping with COVID-19.