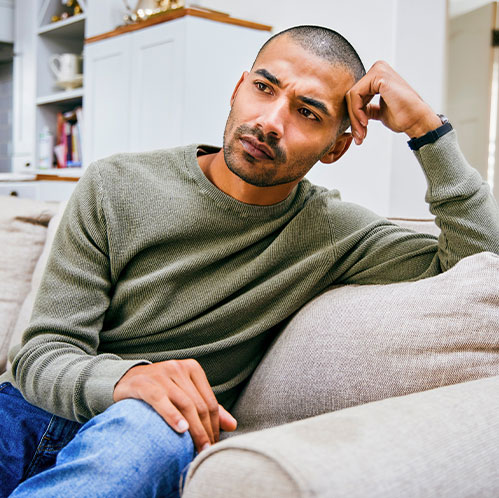 Mental Health Services for Anxiety Disorders
---
Anxiety is a normal human emotion that can arise for a variety of reasons. However, persistent anxiety, fear, and stress can lead to a more severe anxiety disorder. Negative emotions can hinder daily life for those with anxiety disorders, from interrupting work productivity to personal relationships.
At T.R. Liscombe Family & Behavioral Consultants, LLC, our mental health professionals specialize in counseling services and therapy for anxiety disorders. We have experience treating a full range of anxiety disorders, including social anxiety disorder, panic disorder, and PTSD. With compassionate and effective counseling from our therapists, you develop vital coping skills that help you navigate the day with confidence.
Find High-Quality Anxiety Treatment For You
Processing your experience with a professional counselor helps you develop healthy patterns and behaviors as you progress on your mental health journey.
We Help You Cope With Anxiety
---
At T.R. Liscombe Family & Behavioral Consultants, LLC, we understand how panic attacks, specific phobias, and uncomfortable social situations can negatively impact your life. Each client has a unique background and goals for treatment. Our counselors work with you to collaborate on a personalized treatment plan for your mental health condition. Common therapy methods to treat anxiety include talk therapy, cognitive behavioral therapy, exposure therapy, and support groups.
We believe in not only addressing your specific symptoms but also in treating the underlying causes of your fears and stress. By identifying past traumatic events and internal biases, we can help overcome negative emotions. With consistent counseling sessions from our T.R. Liscombe Family & Behavioral Consultants, LLC team, you will significantly impact your thoughts and behaviors for the better.
Anxiety Disorders FAQ
What are the common symptoms of an anxiety disorder?
There are a variety of anxiety disorders, each with unique mental health problems and symptoms. However, most people with anxiety disorders experience repeated episodes of intense fear and anxiety in everyday situations. Physical symptoms can include elevated heart rate, chest pain, insomnia, and other physical discomforts.
How will I get diagnosed with an anxiety disorder?
Start by finding a therapist you trust. At T.R. Liscombe Family & Behavioral Consultants, LLC, our staff are highly trained in diagnosing mental health disorders. We begin by asking you several questions and judging them against industry criteria.
Additionally, anxiety disorders and social phobias often are accompanied by other mental illnesses, such as depression and bipolar disorders. Our counselors are experienced in identifying anxiety symptoms and guiding patients to practical coping methods.
What can I expect from anxiety therapy?
Our therapists at T.R. Liscombe Family & Behavioral Consultants, LLC, work with clients to pursue therapy options that fit their individual needs. During your initial consultation, we'll discuss your concerns and goals. Then, we will discuss our recommended treatment options together. At T.R. Liscombe Family & Behavioral Consultants, LLC, you can expect a compassionate and patient counselor who pushes you to healing, strength, and confidence.